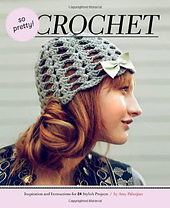 Have you seen the book So Pretty! Crochet, which came out recently? Author Amy Palanjian contacted me to design some pieces for the book, and wrote a sweet profile of my work with crochet design and dyeing for Kitchen Sink Dyeworks. When Amy sent me the mood boards for the project, I was really inspired by the playful color palettes she had picked out, and picked a few colorways of KSD yarns that fit the bill for my accessory designs.
I'm thrilled with how my Ruffled Button-up Pouch design came together! I used a square crochet motif embellished with ruffles that are knit into the fabric of the piece, with small peekaboo windows at the corners. The back is simple crochet, and then the flap is knit in a semi-circle. The pieces are assembled and trimmed in reverse single crochet, and then lined. I used a soft natural linen for my lining, but I could imagine this made in all sorts yarn and fabric pairings, like a earthy batik or sweet calico.
If you're a fan of my free Spokes Cuff bracelet pattern, you'll probably like my Windowpane Cuff, too! This one is great for using up scraps, and is a quick to crochet gift.
Read more about the book on Chronicle Book's website!